PAGEL Spezial-Beton in Essen
For already more than four decades, PAGEL® Spezial-Beton GmbH & Co. KG, Essen (Germany), has defined the development of grout and mortar for special uses.
The  PAGEL® Grout including the well known Marke V1® and the PAGEL® Concrete Repairing  have become an international renowned quality standard.
Our company develops, produces and markets grout and mortar for special purposes for precision machines, wind turbines, anchoring and injection works, as well as repair and restoration of concrete, potable water containers, sewage constructions and also industrial floors and traffic areas.
This wide range of uses, both the consistent high quality and high reliability of our products and the situation-oriented advising for our customers have given us the solid reputation that we world wide enjoy.
The satisfaction of our customers remains henceforth a central goal of our activities.
Product Development and Research
Our materials laboratory in detail
In PAGEL we have at our disposal a well appointed and up-to-date materials laboratory. In addition to mechanical test processes, we can also measure the swelling and contracting deformation among other characteristics of the materials, in order to develop new products. The workability and the adequacy of our products are tested in climatic chambers at temperatures between -20°C and +60°C (-4°F and 140°F respectively).
Compression load: 5.000 kN
Compressive strength on prism, cube and cylinder
Flexural strength on prism and bar
Tensile strength on cylinder
Static Young's modulus
Temperature tests
Climatic chamber for preparation of samples and for testing newly poured concrete between -10°C and +50°C (14°F and 122°F)
Climatic cabinets for sample storage at temperatures between -20°C and +60°C (-4°F and 140°F) and air humidity between 0% and 100%
Storage of samples in water between 5°C and 35°C (41°F and 95°F)
Measurement of deformations
Schleibinger shrinkage-cone at temperatures between +5°C and +35°C (41°F and 95°F) for testing the contraction and expansion behaviours
Complementary tests
Automatic Blaine-value calculation

Sieving analysis

Vicat hardness test
Tear strength and adhesive pull strength
Böhme's grinding resistance test
Acoustic analysis of the resonance frequency for non-aggressive testing of the dynamic and static Young's modulus
Characteristics of newly poured mortar in accordance to  DIN EN 12350, directive VeBMR and ASTM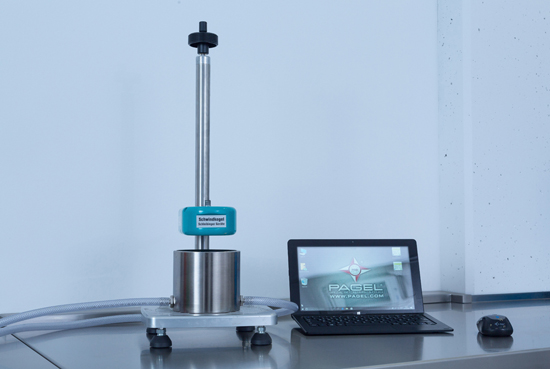 External monitoring
External monitoring of the product quality carried out by independent, certificated and accredited testing institutes and laboratories