Outstanding quality tailor-made
Customized Product Development
PAGEL ranks since more than four decades ago among the technology leaders in the field of grout and special mortars. Not least because of this longstanding experience, we are your ideal partner when it comes to the development of new solutions for your individual building task. Our very well appointed and advanced materials laboratory puts at our disposal the best means for the development of solutions to your requirements.
Hereinafter some examples of customised products from our laboratory.
Development of the POSSEHL Rapid Concrete SB20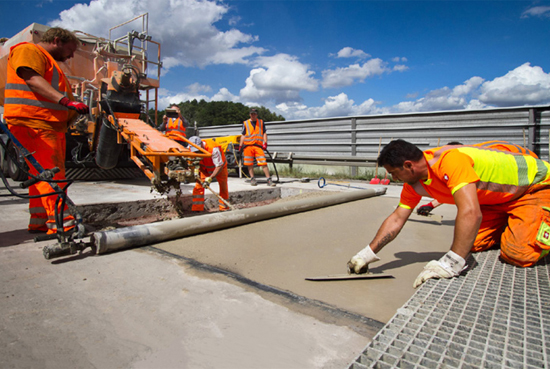 PAGEL developed by request of POSSEHL Special Building GmbH a basic mix for the POSSEHL Rapid Concrete SB20 for the purpose of maintenance measures of concrete roadway-slabs of motorways and aviation areas. This Rapid Concrete hardens extremely fast, and the surface can be put to full use after only two hours.
The impressive parameters of this concrete are 20 N/mm² compressive strength and a flexural strength higher than 3 N/mm² at the point of putting it to full use, as well as a final strength of more than 60 N/mm². The SB20 Rapid Concrete presents high resistance against frost and de-icing salt (CDF and CIF tests confirm it), and is also resistant to alkali-silika reactions (ASR), as proven by the ASR-Performance test.
Development of the VS® Mortar and of the VS-P® Filling Grout for precast concrete parts
In collaboration with the Pfeifer Family, PAGEL developed the VS® Mortar and the VS-P® Filling Grout for joining parts of precast concrete walls. For the Joining Systems BZ, Plus, Slim and ISI, permissions were obtained in each case from the construction supervising authority DIBt (German Institute for Construction Technology).
What can we do for you? We are happy to support you with your individual product development – contact us:
Tel. +49 201 68504-0
Email produktentwicklung@pagel.de